Ski Groups

1 in 6 go Free
There are certain types of holidays that are best enjoyed as a couple or on your own, whilst there are others that are more suited to larger groups.
Skiing certainly falls into the latter, and the fun fuelled experience of hitting the slopes under the winter sun is something that can be enjoyed by groups of all sizes, all ages and of all abilities.
It's certainly how the team here at Get Skiing enjoy spending their time on the slopes, and the experience and knowledge we've gained through the years is something that you can now benefit from as you plan a Group Ski adventure of your own…
We've established first class relationships with all the major suppliers to gain access to the best deals available; allowing us create bespoke packages to meet the needs of groups both large and small.
By working with our expert team, you'll have access to a range of benefits that come from booking a Group Ski break, which include free places, discounted lift passes and access to the best group chalet accommodation.
Just bear in mind that the earlier you book, the wider the options are in terms of the group accommodation available – and remember that the more people you have in your group, the cheaper it will be per person for that impressive chalet in the snow.
Read More

Best chalets for Ski Groups
To make it a lot easier we have listed a few hotels and chalets in different resorts to suit everyone. These chalets and hotels can accommodate groups from as little as 12 guests right up to groups of 80+.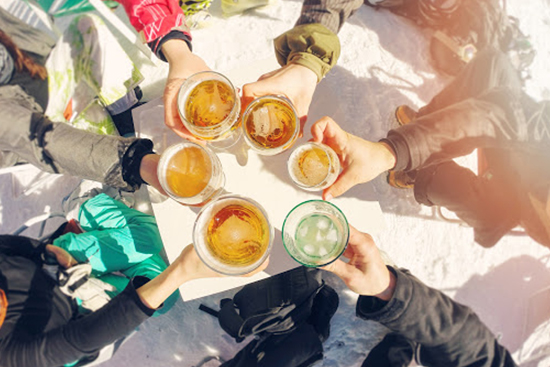 A 4 star chalet hotel sleeping up to 136 guests. Ski in/ski out access and a ski school on its doorstep. Perfect for groups of friends and is set at 1800m in a snow sure location.
Set in the snow sure resort of Solden is this 4 star chalet sleeping up to 59 guests. Accommodation is spread over 5 floors with a separate wing and its own wellness centre.
Ski straight to the Chaudannes & Paquis 6 man high speed chairlift from the door of this chalet which sleeps 26 guests. Set out over split levels giving you privacy if you want it.
A traditional 4 star Austrian chalet with the ski bus stop right outside. Sleeping 25 guests over 2 floors in various rooms and suites with a sauna and complimentary Wi-Fi.
A large chalet hotel sleeping 87 guests in rooms over 4 floors. 50m from the Grande Sure chairlift and 5 min walk from the resort centre. Perfect for groups of friends looking to ski and stay together.
Sleeping 52 guests, this hotel has ski in/ski out access, is 200m from the village centre and next to the Clotes lift. Hotel Hermitage is a very popular apres-ski stop.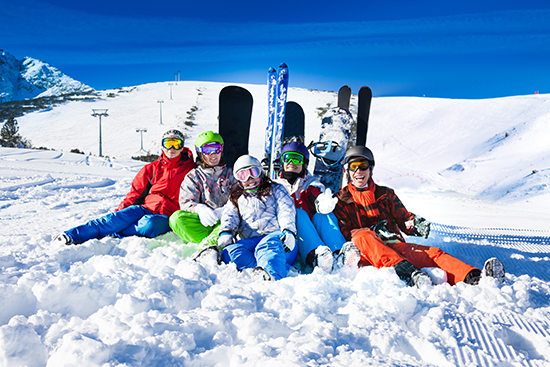 Located in Courchevel 1850, sleeping 69 guests, you can ski virtually to and from the doorstep and are just 200m from the resort centre. A fantastic chalet hotel for groups.
Benefits of booking your Group Ski holiday with Get Skiing
Choice
We aren't going to restrict you when it comes to your Group Ski Holiday. We offer skiing the world over, from the French Alps to the Canadian Rockies.
Experience
We know skiing - really know skiing. We've been there, done that and got the t-shirt so we can help you book the perfect ski trip that will suit your needs, and those of your group.
Group Discounts
The larger the group, the bigger the discounts you can expect to enjoy from your Group Ski break. Up to one in six people could go absolutely FREE!
Lift Passes
Lift passes are something you're going to need in order to hit the slopes, so the fact you can benefit from a raft of special deals as a group is sure to appeal. The ability to buy one, get one FREE means more big savings to pass on to your group.
Accommodation
You don't want to go on a Group Ski holiday and not stay together, but fear not – we have access to the very best accommodation is all of the top resorts.
We have the best prices available and access to a huge selection of catered ski chalets that are suitable for groups of all sizes.
As ever, the earlier you make your booking, the wider the options are – and remember that the more people you have in your group, the cheaper it'll be per person for that ultra impressive chalet.
Relationships
We've got first rate relationships with all of the main operators, and that means you can benefit from the best deals we've been able to negotiate.
Convenience
We can offer flights from around the UK - in fact, we have trips available from no fewer than 18 regional airports.
Protection
Get Skiing offers full ABTA and ATOL protection, meaning that you can rest assured that your money is safe when you make a booking with us.