Ski Resorts in
Switzerland
When it comes to a short haul ski break, we're lucky to have plenty of options close to the UK, but there are few that can match Switzerland.
Stunning scenery, beautiful mountainside villages and – of course – fantastic skiing is to be expected if you board the short flight to the Swiss Alps, where you are certain to enjoy a fun-fuelled trip on the slopes.
As well as a traditional alpine feel to your trip, you'll also be able to experience an alternative type of ski break, with Swiss ski resorts being different to many of the purpose built offerings that you might have experienced elsewhere.
Instead, you can expect to find a plethora of resorts that have developed naturally over time from quaint villages into some of Europe's premier ski destinations.
Regardless of whether you are an expert skier or a complete beginner, the fact that Switzerland is so accessible makes it the perfect destination for a both a weekend break or a longer trip exploring some of the most famous mountains in the ski industry.
With resorts that have it all, top class skiing and flight times of just a few hours, what's not to love?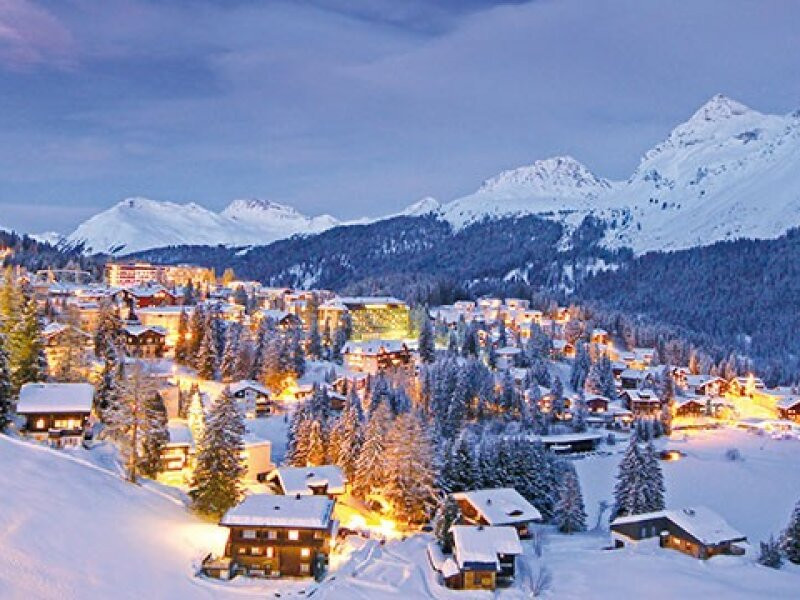 Ski areas in Switzerland
Given that Switzerland is home to so many mountain peaks, you'll be pretty much spoiled for choice when it comes to the options available for a ski holiday. Those peaks are home to some of Europe's best high altitude resorts, with the likes of Vaud and Valais being particularly popular given how easily accessible they are to overseas visitors. The latter is home to some of the most famous resorts on Swiss soil, including Verbier and Zermatt; the latter sitting in the shadow of the iconic Matterhorn and featuring ski runs that are more than 20km in length.
Elsewhere, resorts like Davos and St Moritz in the Graubünden region could have been made for winter holidays and offer glitz and glamour aplenty after a busy day on the slopes.
Apres-Ski
The après-ski in Switzerland is largely based around food and drink, which should come as little surprise given how the country is famed for its cuisine. You'll find plenty of opportunities to indulge yourself with traditional dishes like käseschnitte and raclette that can be washed down with a cool beer or a refreshing glass of wine.
You can also expect to find plenty of live music and nightclubs where you can strut your stuff, particularly in the likes of Verbier and St Moritz. Be warned however that the après-ski in Switzerland isn't the cheapest so budget accordingly.
Ski Accommodation
Switzerland is home to a wide range of different accommodation options that are suitable for all kinds of ski holidays. Alongside traditional chalet style accommodation in some of the older resorts, you can also find a range if apartments as well as larger hotels – some of which offer all-inclusive luxury and a raft of facilities to enhance your ski break.
Lift Passes
Lift passes are available for individual resorts or the wider area if you plan to make use of the strong transport links to explore further. Booking in advance helps to secure the best deals and removes the hassle of needing to sort your plans on arrival.
Popular Ski Resorts in Switzerland
Other Ski Resorts in Switzerland