Going on a winter holiday with children in tow can be a fantastic experience, with a trip to the ski slopes being a great way for them to enjoy the great outdoors and for the whole family to have plenty of fun together.
There are however some challenges that come from booking a ski holiday with the children compared to the traditional beach break in the middle of summer, where the only thing you really need to worry about is whether or not the hotel/resort has plenty to keep them entertained during your week in the sun.
With that in mind, here's some top tips if you're trying to decide whether the time is right for the children to join you on a winter adventure.
Make sure they're old enough
As obvious as it might sound, you don't want to try and take a child away skiing who simply isn't old enough to do it.
Although a number of resorts are home to chalets and hotels that offer child-minding services and children's clubs, they are the kind of thing you should really want to make use of if the children want a break from the slopes - not simply because they aren't old enough to take part themselves.
With that in mind, you might find that your child won't really be ready for their first proper ski holiday until the age of five or six, where they would be able to master some of the skills required and be in a position to partake in proper lessons with a qualified instructor in a ski school.
Of course there are exceptions and your child might already be a whizz by that point having honed their skills on the local indoor slope back home - in which case they could enjoy time alongside you on the junior slopes before making use of the aforementioned childcare facilities when you want to tackle the more challenging pistes.
Heading to an indoor slope in the UK so the kids can have a try first is also a great way to see if they are ready for the real thing.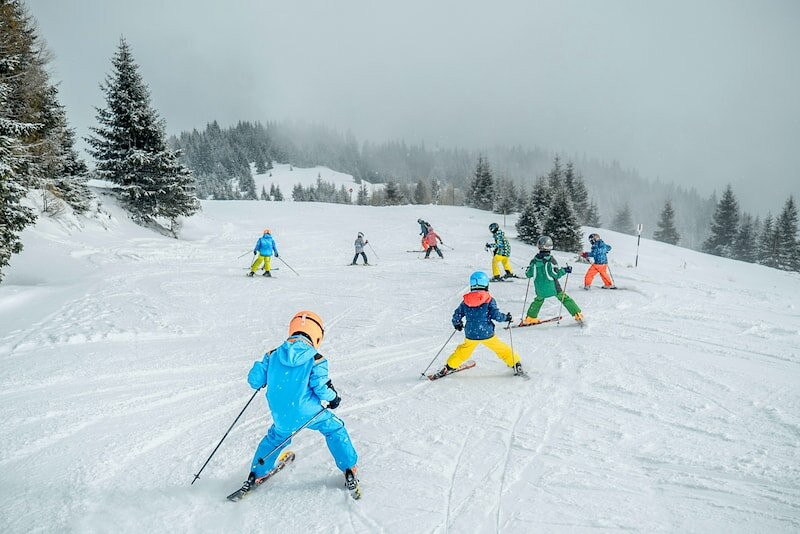 Can you go as a group?
Children can be shy - we all know that - so expecting them to learn to ski in a ski school alongside people they have never meant could be a pretty daunting experience.
With that in mind, it might be worth looking into whether you have family and/or friends with children of a similar age who might like to come along for the ride. There are plenty of options when it comes to accommodation for larger groups in most of the main ski resorts, whilst groups also benefit from a range of special offers that you might not get as a smaller family.
The children will benefit from having friendly faces alongside them as they learn, and the same is very much true when it comes to the adults - particularly when there are more of you to enjoy the apres-ski on an evening!
Choose the right resort
This one is particularly key if you are taking the children along to ski with you, as you need to make sure that the resort you visit is family friendly.
If black runs and steep slopes are order of the day then it's probably not the ideal option for youngsters, and you'll be better off looking for resorts that have plenty of beginners - with shallower, open slopes where they can get up to speed, or take their first proper steps after lessons in a ski school.
With that in mind, you'll want a resort that has a high quality ski school that caters for the British market, with group lessons being a better option than individual lessons. That's partly down to cost, but also because your child will get to spend time with others of their same age and have more fun in the process.
You might also want to consider what activities are available for those times when the children aren't skiing to ensure there is no time for boredom.
Accommodation that is ski in and ski out is ideal because you'll have direct access to the slopes, which is important factor unless you're planning to try and help the children to carry their equipment or want to deal with the complaints that will invariably arrive when waiting for a shuttle bus.
Equipment
Our recent blog about skiing for the first time explained why you are better off hiring a lot of your equipment rather than buying it, and this is particularly true when it comes to children.
We all know how quickly they can grow and you could easily end up spending an awful lot of money on things that you don't actually get much use from before it's no longer suitable.
Anything that you can hire is a positive but you'll want to make sure that you can either hire it for the entirety of your trip, or are getting it from somewhere close to your accommodation so there isn't lots of time wasted collecting it and dropping it off every day.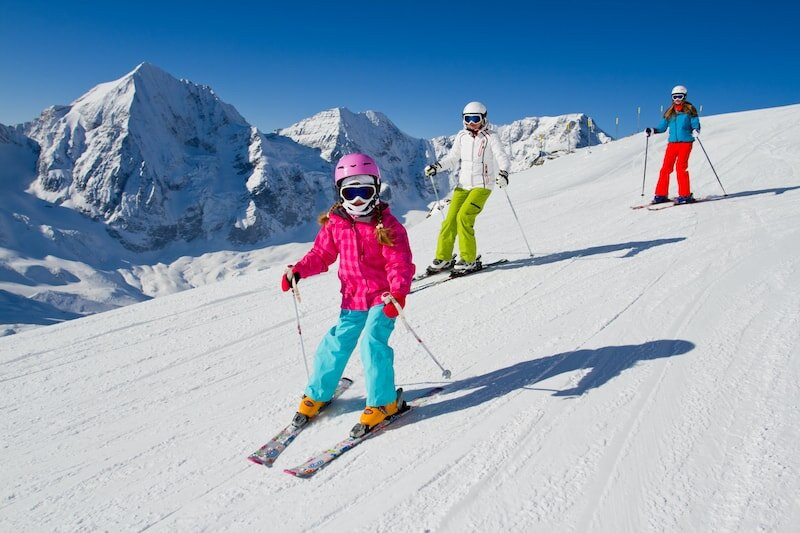 Make it fun
Skiing is a fun-filled experience so make sure that the children understand that fact from the start. Before you go, show them videos of people having run in the snow and raise the levels of excitement about what is to come so that when you hit the slopes, they're ready and raring to go.