Have you ever wanted to ski in the backcountry and enjoy perfect powder surrounded by some of the world's most inspiring scenery?
If the answer to that question is yes, then you might want to give the Vallée Blanche, off the side of Mont Blanc, a try.
I've just returned from four days doing that and I wouldn't hesitate to recommend the area for anyone who enjoys a challenge, and who loves spending time in the mountains.
The trip saw me join up with my good skiing buddy Patrick McIntosh and his nephew John, and we met with our mountain guide Asmus Norreslate from Denmark at 8:15am at the world famous Aiguille de Midi.
After doing a quick check of our equipment - avalanche bleepers, backpack, water, harnesses, skins, ropes - we jumped on-board the cable car for the ride of a life to the top of the slopes.
The ride starts at 1000 metres above sea level and within 20 minutes, you'll have climbed to more than 3800 metres – a height of more than two miles.
If you have any heart conditions or don't like heights, then you might want to stay away…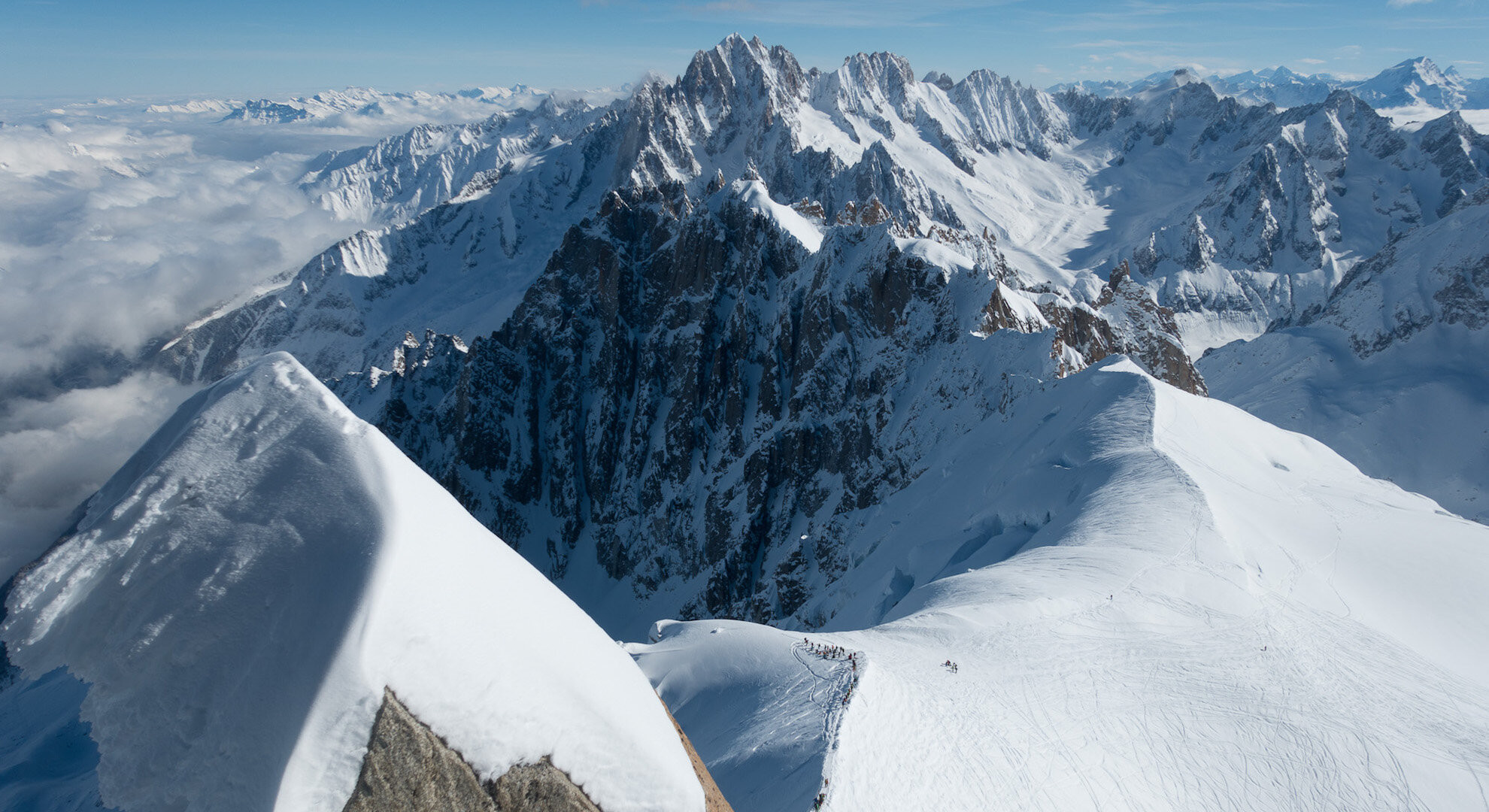 Even before the skiing gets underway, the dramatic cliffs and glaciers that cascade down from all sides of Mont Blanc are sure to get the heart racing with excitement about what is to come.
However, the fun really starts when you get to the summit and rope in with your mountain guide and friends.
At this point, you walk out from the top station for a walk along a cliff edge and it certainly gets the adrenaline flowing as taking a wrong step and falling would be the end. Despite that, I felt a strange sense of calm looking over the edge; albeit with a touch of excitement thrown in for good measure….
Once off the ridge, we locked into our skis and enjoyed some great powder turns for about 10 minutes. At over 13,000 feet, the snow was crisp and light and we found ourselves leaving our own personal tracks in our wake, with the odd face-plant along the way when we got a bit too ambitious.
At the base of the Vallée Blanche, we found ourselves surrounded by stunning glaciers and cliffs. In my view, only Nepal comes close to this dramatic landscape – there is certainly nothing to compare when it comes to my own experiences of skiing across Europe and North America.
We then put skins on and hiked for about two hours towards Courmayeur and the Italian side of the mountain. The sun was out and at this point, my helmet/jacket and sweater all came off as we proceeded to sweat for next two hours, working hard to climb back up the mountain.
Despite that, it's important to remember to wear lots of layers of clothing, as temperatures will change dramatically depending on whether you are walking up with skins or skiing down. The weather can swing violently as well from sun to snow and often changes in a matter of minutes. Be prepared for anything, and make sure you have the right kit.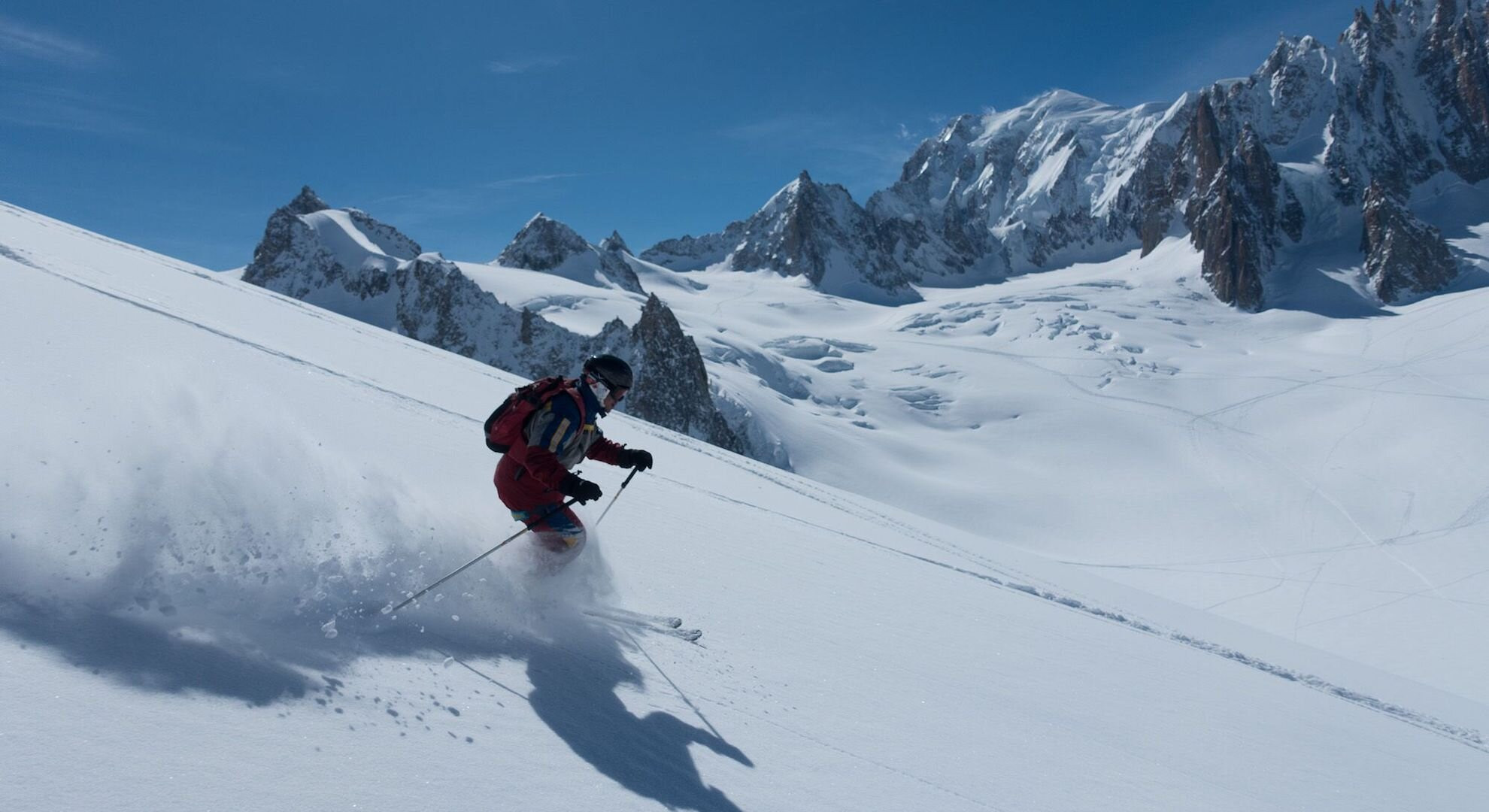 After a big climb up, we sat and had a quick sandwich, some water and chocolate bar whilst admiring the stunning scenery with huge smiles on our faces.
We then enjoyed the best powder of the day, taking turns to leave our signature in the pristine snow with perfect fall lines and some 60 turns. John and I managed a few turns together on the way and hopefully the pictures show this. We felt like we were starring in our own Warren Miller ski epic, featuring great snow and stunning scenery.
After a few hours of laughing, whooping and loving the snow and mountains, we made the last six miles of this epic journey (the standard Valley Blanches is 16 miles long but we added another five with numerous climbs in the day).
During our final two hours, the cloud came down and visibility really was non-existent - not a good thing when you are in a glacier with crevasses and seracs the size of houses surrounding you.
However, we had our hero and guide Asmus, who expertly guided us down through the glaciers. He was amazing and if you are going to do the Vallée Blanche, you really must get a qualified guide as they are worth their weight in gold if things go wrong or weather changes. Asmus made sure we were safe at all times and knew exactly where to take us and where the snow was right.
Once through the glaciers, we were all beaming, shattered and excited from a full day of fun. But we still had a difficult 30 minute climb out of the valley to get back to the ski track that took us all the way down to Chamonix.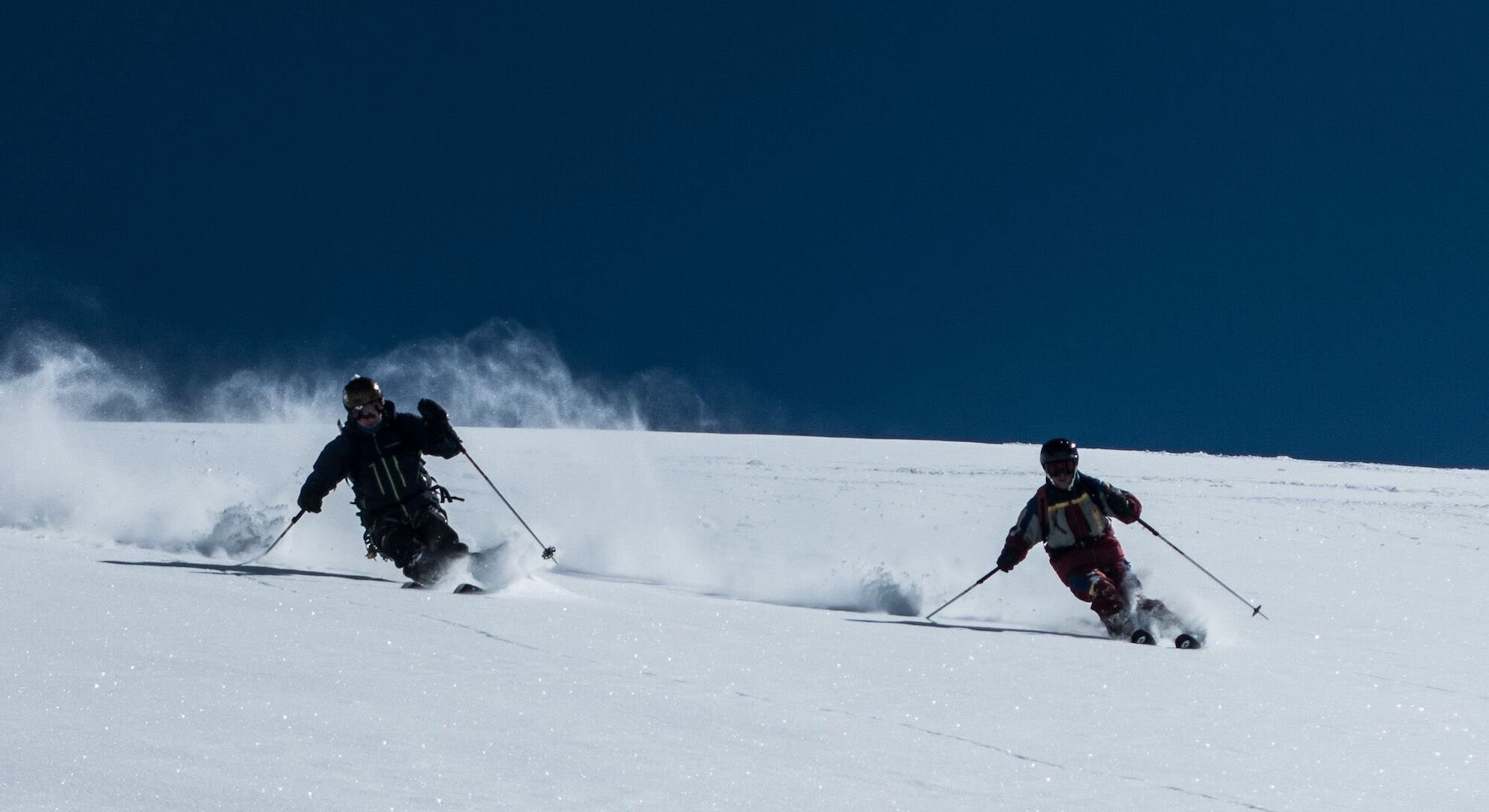 At the top of the climb, was a ski shack selling water and beer. I quickly got 4 beers and litres of water, as we all deserved a cold beer after such a special day.
We then put skies back on, and skied down through the trees right back into the town of Chamonix. All told, we were out about eight hours in total enjoying the best snow, scenery and adventure of our lives.
We walked into a nice little bar in Chamonix with big smiles on face, special memories and enjoyed another nice cold beer.
If you are up for it, the Vallée Blanche is a must for any die-hard skier.
Happy Skiing!
Gary
If you want to explore Vallée Blanche for yourself, then head on over to the Resort section of the website to see what options we have available that will give you the chance to follow in our footsteps - or pick up the phone and give us a call for further information...